Grease Trap Cleaning Pros
Serving South Florida's Food Industry
Ask About Our "FREE" Bulk Cooking Oil Solutions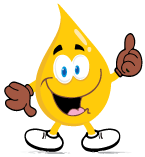 24 Hours / 7 Days A Week
Contact Us Now!
LOOKING FOR A PROFESSIONAL GREASE TRAP CLEANING COMPANY?
Grease trap cleaning is needed periodically to effectively maintain grease traps in food service establishments. In most cases, local food and health departments require a routine grease trap cleaning frequency depending on factors including:
Size of the Grease Trap

Measured Thickness of the Grease and Sludge

Type of Food Service Establishment

Volume of Food Produced

Seating Capacity

Quantity of Wastewater Producing Fixtures
Servicing the food service industry throughout South Florida, Grease Traps Solutions, ha
s affordable, reliable, and flexible scheduling options to meet the demands of the food service industry. We specialize in routine and 24 Hour – 7 Day emergency:
THE IMPORTANCE OF HAVING ROUTINE GREASE TRAP CLEANING
Grease traps are designed to do just what the name implies, which is to trap fatty oils, greases, and sludge, and to separate the oils from water. The substances pass through a catching system, which gives them time to cool off and solidify, and the water passes through the drain.
Grease traps must be maintained regularly, to work effectively in keeping your grease trap clean.
Grease trap cleaning should be a regular part of your facility's maintenance routine. The EPA requires that these traps remain clutter-free and functional. Failure to comply is a criminal offense in most locations.
For optimal results, you should perform a vigorous grease trap cleaning a minimum of every 90 days. This routine cleaning will have multiple benefits, including minimizing foul odors emanating from the trap, preventing it from overflowing into your business or the street, and guaranteeing its effectiveness.
There are many different methods for disposal of grease trap waste. Rather than to just throw the debris in the garbage, which goes to a dump, consider available alternatives, such as companies that recycle the waste into usable biofuel, garbage companies that use alternative disposal techniques for fatty liquids, oils, or grease.
Never use grease trap additives including bacteria or enzymes. These products push the grease from the trap into the sanitary sewer. The grease eventually re-hardens and causes severe grease blockages.
An alternative technology, the Grease Recovery Device does not require grease trap pumping or cleaning. Recovered grease does not go landfill. It is recyclable for future biodiesel use with the waste vegetable oil from a restaurant's deep-fryer.
WHY CALL US FOR YOUR GREASE TRAP CLEANING NEEDS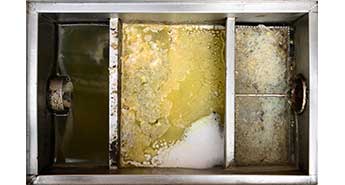 Not performing grease trap cleaning can cause waste smells and in some cases back-ups inside your facility which can result in lost business. The local food & health agencies have the authority to site, fine and in extreme cases close facilities if they do not maintain grease traps according to local ordinances.
Grease Trap Solutions team of experts and our fully equipped fleet of service vehicles specialize in grease trap cleaning and pumping as well as thorough drain line cleaning and preventative maintenance services. Consultations and estimates are free.
CALL GREASE TRAP SOLUTIONS TODAY!
Our mission at Grease Trap Solutions is to provide our clients with the best customer care and superior grease trap cleaning services. As part of our continued customer care pledge, we offer 24 Hour A Day – 7 Days A Week services. For the fastest response to your grease trap cleaning needs call Grease Trap Solutions at (239) 997-8727.