Bulk Cooking Oil Solutions
Cleaner ~ Greener ~ Safer
Serving South Florida's Food Service Industry
Ask About Our "FREE" Bulk Cooking Oil Solutions

24 Hours / 7 Days A Week
Contact Us Now!
BULK COOKING OIL SYSTEMS
CLEANER ~ GREENER ~ SAFER
Bulk cooking oil systems are an environmentally friendly safer cooking oil management process designed to vastly improve the storage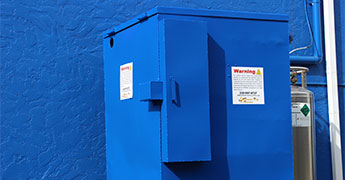 and safe handling of new and used cooking oil.
Grease Trap Solutions is proud and excited to offer customized bulk cooking oil systems that meet the demands of most any food service establishment. No matter the size, cooking oil demands or configurations we can plan and install a 100% FREE  bulk oil system to meet your needs. Your only obligation is to purchase your routine cooking oil from Grease Trap Solutions.
Our cooking oil management systems and bulk tank containers can be custom configured and located in kitchen areas, inside remote locations or outdoors for the ultimate in floor plan flexibility.  We work diligently to ensure our systems easily blend in with local aesthetics and fully comply with building codes. Every system is:
100% FREE Equipment & Installation
100% FREE Used Cooking Oil Pick-Up
Easy No Mess Cook Fryer Filling System
Safe & Easy No Mess Hot Used Cooking Oil & Debris Removal System
Eliminates the Hazard & Mess of Carrying Hot Used Oil To An Outside Collection Container
Reduce Employees Injuries, Downtimes & Workers Comp Claims
HOW DO BULK COOKING OIL SYSTEMS WORK?
Cooking oil, both new fresh oil and used hot oil are stored separately in a secure container system. A series of two lines are connected from the secure storage container to a designated fry station location and filling area. Bulk oil can be pumped directly into the fryer for a 100%- automated oil management solution. If your fryer does not have a built-in oil filtration pump we have a portable/rolling fresh oil pump that will move both new fresh oil and used hot oil. Both systems are simple to use, clean and above all safe to use.
WHY CALL US FOR YOUR BULK COOKING OIL SYSTEMS?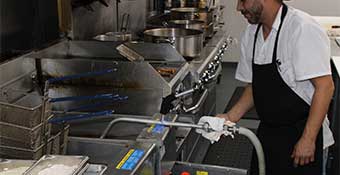 Working with restaurant owners or management, we first determine cooking oil usage and storage needs. Next, our bulk oil systems experts complete an on-site inspection to design storage placement and oil filling equipment needs.
With our efficient Bulk Cooking Oil Systems, the equipment, installation, and waste cooking oil removal is always 100% FREE. Your only expense is purchasing your daily cooking oil needs from Grease Trap Solutions.
CALL GREASE TRAP SOLUTIONS TODAY! CLEANER ~ GREENER ~ SAFER
Kitchen and employee safety combined with protecting the environment make bulk cooking oil systems from Grease Trap Solutions a win-win for every kitchen equipped with frying stations.
Our mission is to provide our clients with the best customer care and superior bulk cooking oil systems management while doing our small part to protect the environment. As part of our continued customer care pledge, we offer 100% FREE equipment installation and waste cooking oil removal. For the fastest response to your bulk cooking oil systems questions and needs call Grease Trap Solutions at (239) 997-8727.